The Wood Hut
Handcrafted Wooden Rings



Scottish Oak wooden ring - feature for May 2013
Just imagine standing under a majestic Oak tree somewhere in the British countryside and then glancing at your golden Oak wooden ring on your finger and experiencing the warmth of wood and your own very special connection with nature.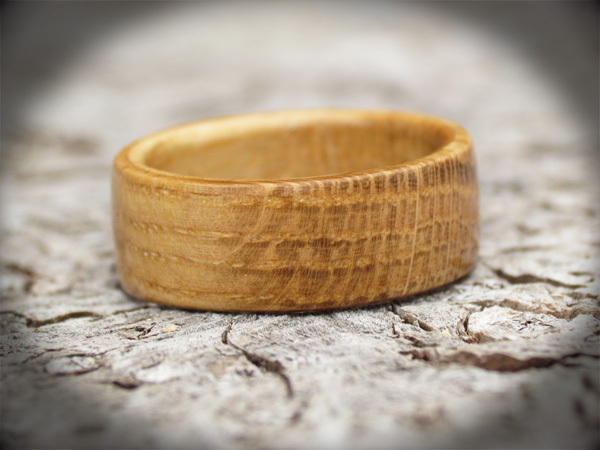 Elegance and simplicity are the features of this stunning wooden ring. With no inlays or contrasting colours, the natural beauty of this glorious wood is allowed to shine through.
Our method of creating these beautiful wooden rings has been developed over many years beginning with the careful selection of wood we have personally collected and seasoned. No mass produced packs of pre-cut veneers or super glue (Cyanoacrylate) is used.
Only the strongest and most attractive of our wood is lovingly crafted into our wooden rings which are brought to beautiful natural shine with our maintenance free durable finish which is applied over many days.
At 8mm wide by 2mm in depth these Scottish Oak wooden rings have a gentle camber on the inside which gives a supremely comfortable fit and there is plenty of space on the inside of these rings to burn a special inscription.