The Wood Hut
Handcrafted Wooden Rings



January 2014 - our tenth year of making wooden rings
Welcome to The Wood Hut wooden rings website and happy 2014!
The rush of Christmas seems a distant memory as we now turn our attention to St Valentines Day. This historically has always been a busy period for us - typically with men ordering a wooden ring for a loved one just a few days before Valentines Day. We will always do our best to help out, however I do recommend ordering in advance as it usually takes 5 working days from start to finish to handcraft a wooden ring.
New for for 2014 is our Coral Oak and Walnut wooden ring which brings together reclaimed Oak and Walnut and is inset with Coral from a beach near Arisaig, opposite the Isle of Skye. Don't forget that if you have a sand, coral or shell special to you that you would like set into a ring please feel free to run it by us and we can test or tell if it will be suitable or not.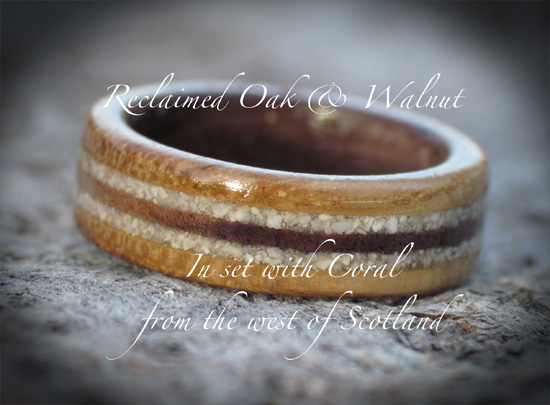 Wooden rings lend themselves beautifully to special occasions especially a fifth wedding anniversary and make truly stunning rings for a wedding or handfasting ceremony. We absolutely love making wooden rings with hours of careful craftsmanship given to each creation. It is important to remember that wooden rings are not as strong as metal rings and do need some extra care and protection, having said that by following our simple guide lines and instructions our wooden bands will give many years of pleasure.
If time allows we will be posting some new inlaid wooden rings to our product list including Abalone, Paua shell and Pearl.
We hope you enjoy browsing through our rings categories although the more wooden rings we post as products to buy the more difficult it can be to make a choice. We are however flexible with our ring designs and are happy to accommodate customer requests, where practical.
This is our tenth year of handcrafting wooden rings and I will never cease to be amazed at the unique beauty that appears before me whilst doing so. I hope that you also are inspired by the possibilities of wearing nature's creations.