The Wood Hut
Handcrafted Wooden Rings



Custom wooden rings - May 2014
Let us help you create a unique design of wooden ring to suit your special occasion.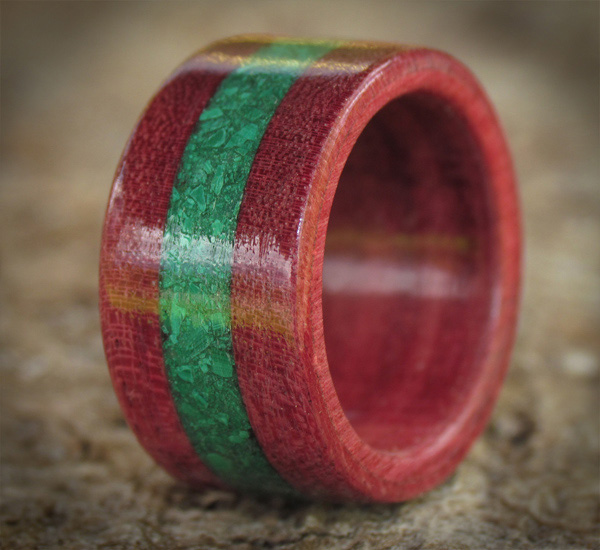 Choosing wooden rings for a fifth wedding anniversary gift or as wedding rings can be a daunting task, sifting through pages and pages of internet sites and not quite finding just that particular shape size or colour of wooden ring. At The Wood Hut we are more than happy to work closely with you to create your custom wooden ring. Initially we will talk you through the construction process and your choice of woods or inlay, discussing the possibilities and ultimately how they will compliment each other if using contrasting timber.
Wooden rings are really cool right now and you just cant beat the handcrafted organic beauty of our rings.
If you have your own wood and would like us to test its suitability for a custom wooden ring please feel free to contact us.
Pictured today is a custom wooden ring designed by a customer - inlaid with a 4mm band of Malachite and created from multiple layers of Purpleheart wood with a Purpleheart internal liner, giving maximum strength in all directions.