The Wood Hut
Handcrafted Wooden Rings



Bentwood Rings With A Nautical History
Bentwood rings handcrafted from a Mahogany Ship's door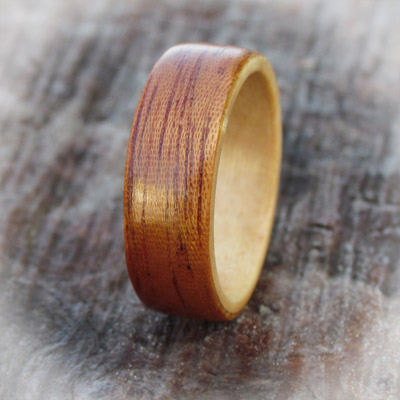 Prior to making wooden rings I spent many years as a cabinet maker and then boat builder, acquiring a complete understanding of just how wood works and all of its potential uses.
When I was steam bending the spars of mahogany around the hull of a boat all those years ago I never thought I would be putting such techniques into the crafting of wooden rings.The technique for wooden rings, although in miniature, is basically the same. The wood is steamed in a pressure sealed tube forcing the hot moist air into the wood, so rendering it supple enough to make tight curves and cylindrical shapes.
Whilst restoring an old Yacht I salvaged its solid Mahogany door and stored it away for a rainy day or when inspired to create something from it. Aware of the ecological issues related to Mahogany and the recent import restrictions I decided to try and make the most from this beautifully aged and strong wood. I have to say in the past I have worked with all types of Mahogany and more recently the lesser valued species such as luan and none of them come close to the quality of this Nautical Mahogany. Rightly so, nowadays the use of this wood is strictly monitored so I feel privileged to be able to work with what little remains. Having said that, due to the way we make our bentwood rings and the size of the ships door, I will be making them for a good few years yet.