The Wood Hut
Handcrafted Wooden Rings



Up To Date Wooden Ring News For Autumn 2015
Capture a moment in time, check out some new inlays and be inspired by Scotland's beautiful scenery
We receive some exciting requests to source materials for our wooden wedding and engagement rings which lead to great adventures and road trips. My love for stand up paddle boarding and windsurfing definitely comes in handy as it enables me to get out to some of the remote little islands off the West coast of Scotland in search of washed up coral, white sand and colourful shells.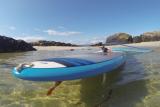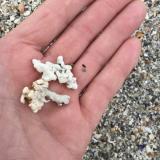 Earlier this year we were commissioned to make bespoke wooden wedding rings for a couple which reflected their heritage and which would also encapsulate a moment in time. The rings were made from Irish Bog Oak, Scottish Oak from Perthshire, Icelandic Volcanic sand and sand from the Western Isles. Fortunately Iain and Jen sent us a huge amount of the volcanic sand from Iceland, in fact more than enough sand to make a bucket full of rings so get in touch if you have an Icelandic connection and would like us to inlay this silky smooth black sand into a wooden ring of your choice.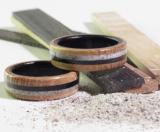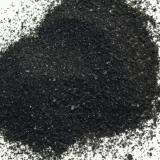 We do not normally work with precious metals however we found a striking compromise with a customer who commissioned a wooden engagement ring inlaid with gold leaf. We love the effect achieved and will be adding this inlay option to many of our designs.
Recently we were given some Mediterranean Abalone Shell which compliments our Spanish Olive wood rings wonderfully. We do not deliberately contrive the finished patterning and just simply mix up the crushed abalone and set it into a clear resin which is inlaid into the central groove of the ring. We then polish the shell flush to the surface of the wood resulting in a completely unique mosaic of abalone every time.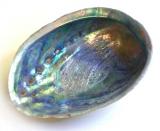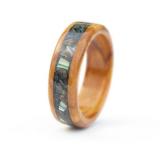 Finally we are having a little bit of fun photographing our distinctive and unique rings at various locations showcasing Scotland and the stunning scenery which inspires our creative process. Follow their journey and discover Scotland via our facebook page.