The Wood Hut
Handcrafted Wooden Rings



February 2016 News From The Wooden Rings Workshop
New Ebony and Oak wooden rings, custom designs, worldwide shipping and workshop maintenance dates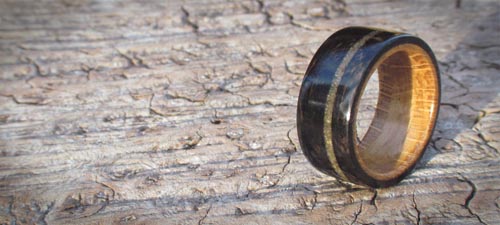 We are really excited to introduce this stunning new wider Ebony and Oak design which was originally inspired by a customer wishing to incorporate a narrow band of sand from her native Wales. We have tweaked the initial design a little, adding multiple layers of Scottish Oak to the internal liner, which when married with the incredibly strong African Ebony results in beautiful contrast of gold against black.
This particular piece of Ebony used on the wooden ring pictured has sat on a shelf in The Wood Hut workshop for years. I do not think a day has passed that I have not cast my eye over it wondering what to make from it. Little did I know what striking patterning and grain lay hidden under its jet black surface. Under close magnification there is almost a leopard skin or subtle mottled effect which is beautifully enhanced with the application of our specially formulated deep gloss protective finish.
Although bold and stunning at 10mm wide we will be offering this ring in a variety of widths and with a variety of sand from various locations such as Shetland, the Western Isles, Cornwall and Wales and naturally if you have your own sand from your favourite beach we will be more than happy to incorporate this for you. All we require is a thimble full.
We are giving ourselves an extra couple of days to make these rings, about 5 to 7 working days from start to finish, and if you are thinking of having an inscription burnt into the Oak we find just a date or initials works best.
We are always happy to discuss design options and different wood combinations, so get in touch to share your thoughts and make your vision of wearing your unique, custom wooden rings a reality.
We are often asked if we can show an example of a particular ring design being worn in an every day situation, so Emma took a quick snapshot of me modeling our new design. I hope this helps and gives an idea of the size and just how comfortable they are to wear.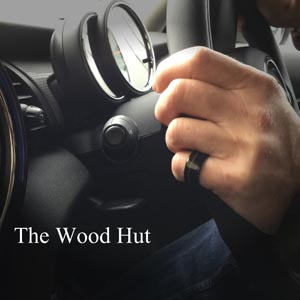 It never ceases to amaze me when I see where the rings I make are being sent to, with regular shipping to the USA, Canada, Continental Europe and now Australia, and to think they are all handcrafted in our wonderful little workshop hidden in the Scottish Highlands.
Unfortunately the workshop has taken a bit of a battering this winter with the relentless storms rolling in from the Atlantic, so we will be hoping to give the workshop some much needed TLC. This may necessitate a brief respite period at the beginning of April, not only to fix the roof but also to install a new work station with the view to take on a trainee in the art of making wooden rings.