The Wood Hut
Handcrafted Wooden Rings



How to order your bespoke wooden ring
Ring Sizes
We recommend that you obtain a professional sizing from a jeweller's before ordering your wooden ring. Alternatively, if you have an existing ring, we are able to convert an accurate measurement of the internal diameter (to the nearest .5mm) into a ring size for making your ring.
You will see that we now stock plastic ring sizers and these can be ordered by adding them to your basket. The postage cost for these is refunded if you place an order for a wooden ring once you have ascertained your correct size.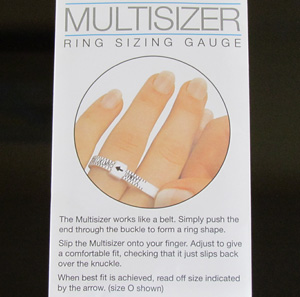 Incorrect fitting
Where a ring is slightly too small (half to one size), we can usually re-size the ring by taking a little more wood out of the inside. In this case we would just ask you to bear the cost of postage to and from the workshop.
Likewise, if a ring is half a size too big, we can sometimes apply more coats of finish to the inside of the ring to alter the size. Again, we would ask you to cover the postage cost.
In other cases, where a ring has to be re-made because the size ordered is incorrect, this is at your cost.
Inlay Choices
Some of our rings come with a choice of inlay.
To see a clearer view of the inlay you can click on the small photo to enlarge it.
Inscriptions
Where available, the inscription on the inside of your ring is added by hand using a wood burning tool. Not all woods are suitable for carrying an inscription (for example the wood may be too dark so that the inscription wouldn't show) and some rings are too small to fit an inscrption.
We find that initials or a date works best.
We charge £1.00 for the first 5 characters and 25p for each extra letter.
Payment
Please note that we are unable to begin work on your rings or gifts until payment has been received in full.
At checkout you will click to be re-directed to 'PayPal', who process all payments for us. Please note that you do not need to have a PayPal account to make a purchase from our website, as you are able to choose to pay by card once you see the PayPal screen.
If you are ordering from abroad, we now offer options to pay for your wooden ring in a varierty of currencies; simply click on the flags at the top right of the screen to display prices in either US dollars, Euros, Australian Dollars or Sterling.
We dispatch our wooden rings worldwide.
If you find it easier, you are welcome to call us on 01796 482401 to place your order over the telephone and pay by card.