The Wood Hut
Handcrafted Wooden Rings



Latest Wooden Ring News For June 2018
Some of our recent wooden rings we have made - Oak and Rosewood, inset with with coral from the west coast of Scotland and two beautiful Ebony and sand wooden wedding rings flown out to China last month
This blue Lapis Lazuli gemstone ring started out as a bit of an experiment for a customer but has now become a firm favourite of ours. We slowly build up layers of this gemstone and then gradually grind it flat in between coats. Finally we add an invisible layer of fibreglass to protect the polished gemstone. The result is a completely unique mosaic of blue gemstone every time.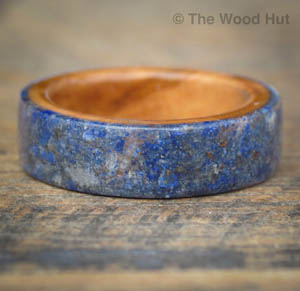 The second ring highlighted here is our Oak, Rosewood and Padauk band, inlaid with pink and white coral collected from a beach near Arisaig, on the west coast of Scotland. We personally collected the coral, while strolling on this stunning beach, which faces the Isle of Skye. The coral accent compliments and adds beautiful contrast to the dark woods used here.
The wedding bands featured here are made from Ebony on the outside with scottish oak on the inside and have been inset with an accent of Scottish sand. We had a really tight deadline to work to on these matching rings, one 8mm wide and one 6mm wide. They arrived in China just in the nick of time.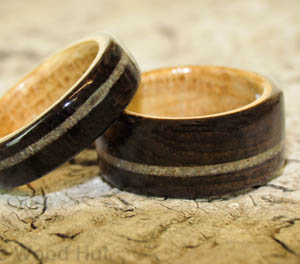 Our laser engraver has been a real godsend lately, allowing us to add intricate designs and symbols to the inside of the wooden rings we make. Along with names, initials and anniversary dates, the most popular symbols are the infinity sign and hearts. It has taken some practice to master the technique, as every species of wood has its own burning characteristics.
Dont forget to keep an eye on our Facebook page to see our new designs and the stories behind them.